Sale!
Succulent Tool Set for Easy Plant Maintenance and Gardening
$17.99 – $25.99 & Free Shipping
Free shipping on orders over $20!
Satisfaction Guaranteed
No Hassle Refunds
Secure Payments
Description
Material: Plastic
Type: Gardening Tool Set
Colour: Black
Name: Succulent tool set
Specifications: five-piece OPP bag / eight-piece OPP bag / thirteen-piece OPP bag / thirteen-piece storage bag / thirteen-piece storage bag + 50CM soil change pad
Remarks: The utensils are hand-made, and the stainless steel and the handle are manually welded. There may be a situation where the interface is not neat, which is normal. The stainless steel part may have scratches due to hand-made, packaging and transportation, which does not affect normal use and is not a quality issue.
1. Cleaning brush (about 10.5cm)
2. Seedling device (about 14cm)
3. Hole punch (about 14.5cm)
4. Tea spoon (about 15cm)
5. Shovel cup (about 16cm)
6. Small rake (about 16.5cm)
7. Round head spatula (about 20cm)
8. Pointed spatula (about 21cm)
9. Watering can (about 300ml)
10. Air blow (about 15cm)
11. Elbow tweezers (about 12cm)
12. Small scissors (about 11cm)
13. Watering can (about 250ml)
14. Soil changing mat (tiling 50*50cm)
15. Storage bag (22*18*8cm)
*Manual measurement, slight errors are normal, please refer to the actual product.
OPP Bag Storage Bag
Soil shovel cup: It can be used Gardening three-piece set: suitable for transplanting flower and for shovelling a lot of soil. vegetable seedlings,loosening soil and weeding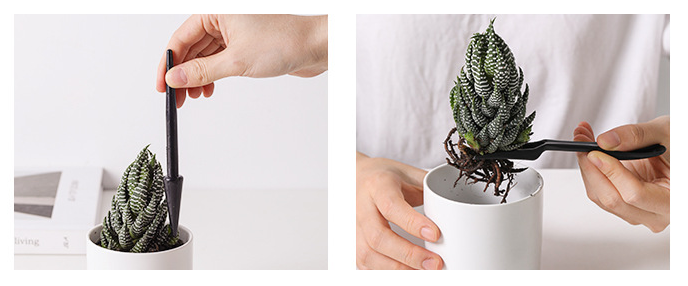 Hole punch Seedling device
Can be used to drill holes in the soil The split end is used for transplanting seedlings,
when transplanting seedlings into the soil and it can be easily lifted by clamping the roots.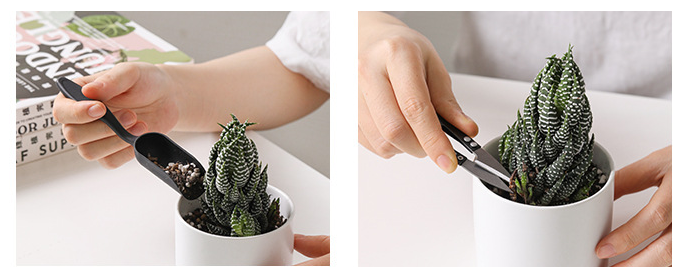 Tea spoon Small scissors
Shovel soil and put paving stones so For plant root trimming, small and sharp
that soil can be easily poured into flower pots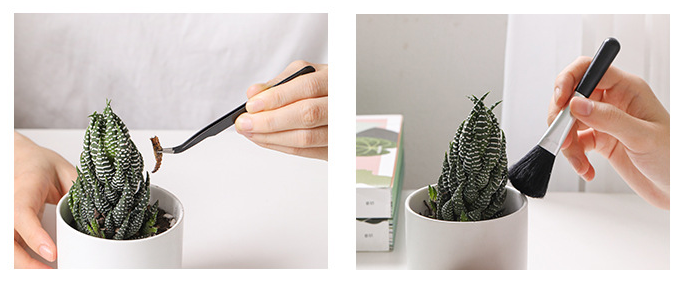 Elbow tweezers Cleaning brush
Precisely grasp the bugs, dust, etc. Clean the dust on plant leaves. The hair is soft and does not hurt the plant
in the flowerpot, and the operation is more precise.
Air blow Watering can
Blow off the dust and water droplets on the blades, Elbow and thin mouth can be watered deep into the leaves,
the airflow is small and strong suitable for watering small plants such as succulents
Watering can Soil change pad
Can be used for plant humidification or spraying When transplanting plants or changing soil, place it under the ground to prevent soiling of the desktop and ground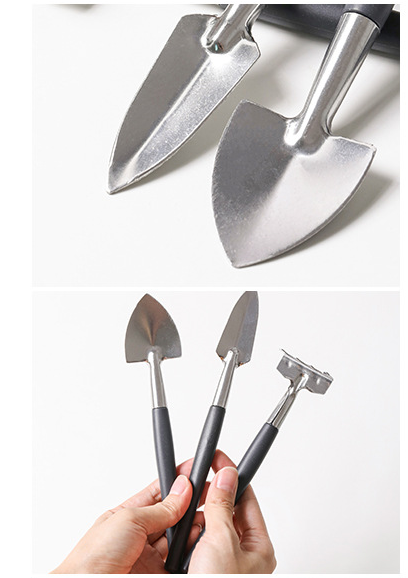 Additional information
| | |
| --- | --- |
| Weight | N/A |
| Specification | 5-piece set (PP bag), 8 pieces set (PP bag), 13 pieces set (PP bag), 13-piece set (storage bag), 13 pieces set+50cm soil mat |
| Color | Black |